Dream locations within easy reach of Madrid
The heat waves have taken their toll on the city of Madrid. The month of July saw fans, hats, water bottles, portable mini fans, etc., being used as a way to endure the tough conditions for tourism in a city that seems to trap the heat.
Visiting museums during the hottest hours of the day was an increasingly common practice, but what do you do when the thermometers are close to 30 degrees even at night? If you're planning on going on an excursion, you should compare the temperature at your destination and the temperature at your point of origin, and perhaps prioritise the province of Ávila over Toledo, where it tends to be much hotter.
One of the places you should definitely visit is El Barco de Ávila, a small town on the border with Salamanca and Cáceres, bathed by the River Tormes. Here, you can unwind, enjoy the gastronomy, cool off in the river and, above all, admire the traces of times gone by in the town, from the ancient walls to the Romanesque bridge in an excellent state of preservation.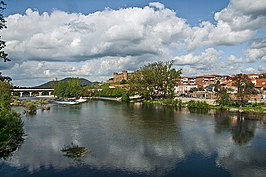 The Church of the Assumption of Our Lady is not to be missed either. Dating from the 12th century and renovated in the 14th century, it was declared a Historic-Artistic Monument in 1931. It is striking for its simplicity, typical of the period and style, and its seclusion.
In addition to the church, square and main street, the Castle of Valdecorneja is another landmark that must be seen. Situated above the Tormes valley, this fortress dates from the 12th century and was also renovated in the 14th century, like the church. Although it is a little far from the city, it doesn't take long to walk there, and it is definitely worth it.
A swim in the Tormes, some 'patatas revolconas con torreznos' (potato and bacon dish) or a stroll along the main street are other things to do in this village, not forgetting, of course, to buy some local beans, which are so famous that they even have their own museum!
Categories: Madrid Turismo
« Madrid for the nostalgic: Conde Duque and Madrid Rock
Chestnuts in Madrid »