Madrid for the nostalgic: Conde Duque and Madrid Rock
Cities change and evolve, and sometimes it is difficult to rediscover the splendour of former venues that have become a legacy for the nostalgic.
We recently heard the news that the Conde Duque cinemas in Chamberí are closing. This is sad news for all lovers of the seventh art and for those who shunned modern cinemas, preferring to go to those places that were just like before, or almost.
Calle Fuencarral from Bilbao to Quevedo was traditionally a hustle and bustle of people crowding around ticket offices. This phenomenon also occurred on other streets in the area, such as on Calle Alberto Aguilera and Calle Bravo Murillo, where the now-closed cinemas are – or used to be – located. If you walked around those areas on a typical Saturday in the 90s, you would see the city at its peak of activity.
It goes without saying that traditional cinemas have had a particularly difficult time due to the rise of large shopping centres and multi-screen cinemas. Little by little, independent cinemas have closed, and the neighbourhood has changed. Fortunately, there is still room for everyone here though, as can be seen on any afternoon in Plaza de Olavide.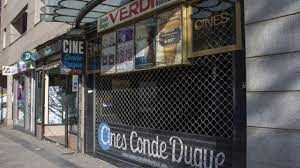 Yes, Conde Duque cinemas will remain in the memory of the nostalgic, like so many other mythical places in Madrid that have said their final goodbyes. At the top of that list is Madrid Rock, which remains in the hears of its greatest supporters, the Alcázar Brothers.
Jose and Emilio Alcázar, or the 'Heavies of Gran Vía' as many call them, have gone down in the history of the city. With the exception of lockdown, they have been faithfully going to what used to be a thriving music shop, now a clothes shop, where they used to drink beer every afternoon and remember a time when globalisation had not yet descended on Madrid.
Photo taken from Madrid Diario
Categories: Madrid Cultura
« From Stranger Things to Tim Burton
Dream locations within easy reach of Madrid »