Final stages of the 20th anniversary of Warner Park
There are only three months left to celebrate Warner Park's 20th anniversary. Yes, because this spring, which passed almost unnoticed, it celebrated this milestone. But as Carlos Gardel said, 20 years is nothing, because it feels like Warner Park has been in Madrid all its life.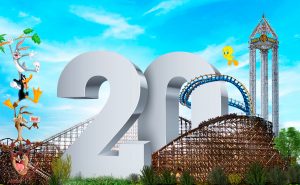 It opened in 2002 with an entertainment offer that caused great expectation and that complemented the amusement park that already occupied an important place in family entertainment, together with the zoo.
Today, Warner Park receives many visitors with young children and a desire to enter a magical world. Because that is what awaits once you walk through the gates, a world of fantasy and characters brought to life, with wonderful scenery that makes you feel as if you are inside a cartoon.
In addition to the attractions that were already in place and the scenery that has now been there for 20 years, new features have now been added, as well as new characters that have been causing a stir over the last few months.
The most popular is Gizmo, the adorable, oversized gremlin, who is a favourite with the little ones and the not-so-little ones, who remember like a mantra that he can't get wet and can't be fed after midnight.
The Wizard of Oz characters, also new, are not far behind, contributing to the colour of this dream world, as they follow the yellow brick road to the Emerald City.
And if that wasn't enough, Central Perk, the café from the legendary Friends series, is added to all these new features, where visitors can feel like another member of the gang.
All these new attractions are enhanced by the various shows put on by the team, countless rides, many of them water rides, perfect for cooling off in the summer, and a special parade to celebrate the anniversary.
If you haven't been there yet, now is a good time. Halloween is coming and Warner Park is getting spooky for the occasion.
Categories: Madrid Ocio
« Chestnuts in Madrid
Four typical dishes from the gastronomy of Madrid »