Four typical dishes from the gastronomy of Madrid
If there is one thing that makes Spanish gastronomy stand out, it is its variety. An in this variety, you will find some very tasty dishes that make eating out even more of a pleasure.
The benefits of the Mediterranean diet are well known. Spain is rich in agricultural produce, so the accompaniment to any meal, from the olive oil to the wine, provides that undeniable Spanish flavour that is famous worldwide.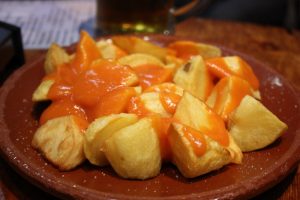 In addition, each region has its own signature dishes that define its cuisine, so for those visiting Madrid for the first time, you can't leave without trying some of them:
Patatas bravas. This legendary dish has already crossed borders and is (almost) world-wide acclaimed for both its taste and its simplicity: fried potatoes cut into wedges and topped with a spicy tomato and paprika sauce. In Madrid, you can eat them almost everywhere, but it is important to check which bars make them the best and in the most traditional way.
Callos a la madrileña. This recipe is finger-licking good. However, if you are used to eating light, it is best to abstain. It is a beef offal stew accompanied by a sauce that blends stock with tomato and chopped garlic. Black pudding and chorizo sausage are usually added.
Mollejas, oreja and zarajo. We continue with offal with these three dishes. The latter is very common at festivals and street parties in the city and is associated with its strong smell while it is being cooked, but also with its rich flavour.
Cocido madrileño. This is the star dish of Madrid's gastronomy, made from chickpeas, stock, vegetables, chorizo and black pudding. Eating it with all ingredients is definitely worth it, and it is also worth taking a tour of the best cocido restaurants each time you visit Madrid to find your favourite.
Categories: Madrid Ocio
« Final stages of the 20th anniversary of Warner Park
(Español) Mañana en la batalla piensa en mí: adiós a Javier Marías »