Brunch is in: three places you must visit
Now that, for one reason or another, we are more willing to go out during the day, brunch has become a very popular activity for couples and groups of friends looking to have a good time.
Many places that only opened in the afternoon are now starting to offer this increasingly popular option, though it has steadily been gaining popularity for some years.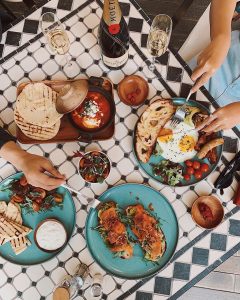 Brunch is not breakfast, but it's not quite lunch either. It's somewhere in between, but it often ends up taking the place of one or the other. Some essential components of brunch are eggs and avocado, along with multigrain breads and other ingredients.
Below is a list of some of the places where you can order brunch in a wonderful atmosphere with great service and outstanding menus.
If you want to go for a stroll in Retiro Park or shopping later, this is the place for you. This place is not only spacious, with a fresh décor that instantly transports us to the Caribbean, it also has a sweet and savoury menu that is bound to make an impression. Despite its roominess, you should make a reservation as, like other establishments belonging to the Larrumba Group, it is often very busy.
Located in Chueca in what used to be one of the most iconic video rental shops in the area. For €19.9 you can choose a rich combination of foods for your brunch. Their eggs Benedict are one of their star dishes; you can't go wrong with them. Don't forget to order a rich mimosa or any other cocktail to sip alongside your brunch for only €4.
Bendita Locura. This establishment on Príncipe de Vergara Street 7 serves a brunch worthy of its name (which means "blessed madness"). In a modern atmosphere, you can try many different options offered by this establishment, which range from a long brunch to a short one.
Categories: Madrid Restaurantes
« The zapatilla sandwich is now back in Lavapiés
Cervantes and the boxes of literature »