The zapatilla sandwich is now back in Lavapiés
There are places that belong to a city's heritage, beyond its squares, iconic buildings and statues. These places tend to be businesses that have been around forever, bazaars that survive the onrush of modernity and traditional bars.
The sadness in the air was palpable when Café Comercial was shut down some years ago. Madrid's outpouring of affection was such that someone decided that it was worth reopening the establishment with a slightly more modern touch that would allow visitors to see what that corner of the Glorieta de Bilbao had been for so many years.
Now, the same thing has happened with Melo's, the iconic Lavapiés bar known for its croquettes and zapatilla sandwiches, made with pork shoulder ham and melted cheese that could weigh up to 1 kg. Going to Melo's was synonymous with sitting at the bar and relishing its specialties with no other worry on your mind other than enjoying yourself.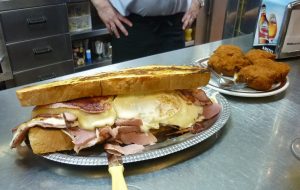 It had been more than 40 years on Ave María Street 44 and in late 2020 it closed because of the owner's retirement, especially after a year as hard as 2020, and the owners' daughter was unable to keep the business running.
In any case, its closure led to widespread sorrow among the locals, both from its neighbourhood and others, who would regularly come to try their croquettes with special béchamel sauce.
But not all things must come to a close. Some days ago, news spread that three young people living in the neighbourhood had taken it upon themselves to reopen Melo's. In fact, it is already open, and the menu remains the same, in an attempt to respect the flavours and textures of its most famous tapas.
The previous owners have already visited the revamped establishment and given it their seal of approval. Long live Melo's.
(Photo from Noticias de Madrid)
Categories: Madrid Restaurantes
« (Español) La feria ARCO celebra su 40 aniversario
Brunch is in: three places you must visit »