From Stranger Things to Tim Burton
Stranger Things descended on Madrid's Gran Vía once again, as it did the summer before the pandemic, and, as expected, it enjoyed huge success throughout the exhibition, which lasted until 31 July.
The Espacio Fundación Telefónica was once again the venue for this event, which became famous for the queues of fans stretching for kilometres. According to the organisers, the wait was around 3 hours on weekdays, and could reach 5 hours at weekends!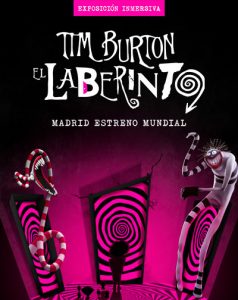 The series has been gaining more and more followers, which has partly fuelled by the three years of anticipation for the premiere of what, it seems, will be the penultimate season.
Eleven and her friends revealed how portals to the other world can also be found in the centre of Madrid to the soundtrack of their favourite songs in case anything happened.
This immersive exhibition gave fans of the series the chance to experience Hawkins in Madrid and helped to lighten the agonising wait for the next release.
The Tim Burton exhibition is also immersive and will open on 29 September. It is likely that this exhibition will also be attended by fans of the Stranger Things exhibition. Don't forget that Winona Rider rose to worldwide fame because of films like Edward Scissorhands, directed by Tim Burton and starring his favourite actor, Johnny Depp.
Those who don't want to queue to see Tim Burton, The Labyrinth and to delve into the creations of their favourite director, can buy their tickets now for €19.50. The exhibition is taking place at Espacio Delicias Ibercaja and runs until 11 December 2022.
Photo taken from: https://www.elcorteingles.es/entradas/cultura/entradas-tim-burton-el-laberinto-madrid-1609202216092022CAEID/
Categories: Madrid Ocio
« (Español) Hergé. The Exhibition llega este otoño a Madrid
Madrid for the nostalgic: Conde Duque and Madrid Rock »