Antonio Mercero's Telephone Box on Arapiles Street
Madrid has always been synonymous with cinema. As well as being the setting for many films, it is also a city filled with actors. It is common to see them on the street or to meet them in bars because, after all, they are mortals and have the same needs as those who do not live off the silver screen.
Many film buffs who come to this city to visit the settings of their favourite films or series. Now, Spanish cinema lovers have one more place of pilgrimage to go to: it is the telephone box – or Telephone Box, capitalised – of Antonio Mercero.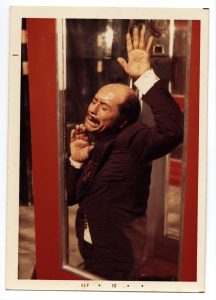 That is because a recreation of the famous telephone box in which Jose Luis López Vázquez was trapped in the film La cabina, one of the most legendary scenes in Spanish cinema, has recently been installed. The aim of this recreation, which is located on Arapiles Street, in Chamberí, very close to where the film was shot, is to pay homage to the director Antonio Mercero.
Having passed away in 2018, this great director accompanied two generations: those who sat with their families to watch the first time Verano Azul was broadcast on TV and also watched his films in the cinema, such as La cabina; and the next, who would sit down to watch Farmacia de Guardia, a watershed moment in Spanish TV history.
La cabina premiered in December 1972. Starring Jose Luis López Vázquez and with a screenplay by Jose Luis Garci, it tells the story of how, when the main character finds himself locked in a telephone box, he reaches a state of alarming anxiety and all that this entails.
From now on, anyone can experience this fictitious sensation in the telephone box on Arapiles Street, which also takes us back to a time when people didn't use mobile phones and could easily get lost wandering the streets.
(Photo obtained from www.antoniomercero.eus)
Categories: Madrid Cultura
« Cinema and television begin 2022 without Forqué
Spain now has a representative for Eurovision »