José Sacristán, Chinchón's chief ambassador
Chinchón is one of the most charming towns in the Community of Madrid. Less than an hour from the city centre, visitors can enjoy a much slower pace of life, a good meal in the Plaza Mayor and a stroll to the famous Castillo de los Condes.
Now, in addition to all the charm of the town, there is a street that was recently inaugurated to pay homage to its most illustrious neighbour, José Sacristán, one of the most recognised actors in the country, both for his professional career and for his human qualities.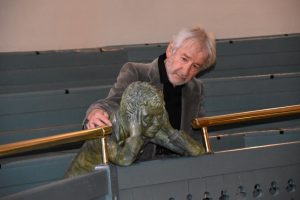 José Sacristán was born in this Madrid town in 1937 and his vocation grew rapidly from the moment he began watching films. In the Lope de Vega Theatre, he has been honoured with a statue for the adult he has become and the child he was.
The actor has never forgotten the amazement and admiration he felt when he saw his first projected images, those which made him fall in love with the seventh art.
José Sacristán began his career in 1960, and despite his advanced age, he has never stopped working. Winner of several awards in recognition of his work, he is a tireless actor who alternates between theatre, cinema and television.
He has recently starred in a horror film, 13 Exorcisms, and is working on a play by Miguel Delibes, Señora de Rojo Sobre Fondo Gris, which he hopes will tour Latin America next year.
Through it all, however, he has never forgotten where he comes from, his roots and his hometown, for which he has always carried a flag and where he was voted the favourite son a few years ago.
For as long as he has the energy, he will continue to appear on our screens.
(Photo by the Community of Madrid)
Categories: Madrid Cultura
« Five restaurants where you can eat lamb in Madrid
Uniqlo opens its largest store in Spain in the heart of Madrid's Gran Vía »