Five restaurants where you can eat lamb in Madrid
The cold weather is coming – although it has been a long time coming this year – and we are in the mood for hot dishes, the kind that give off a promising aroma of smoke. As well as the stews and soups we've talked about in the past, there are other dishes that should not be missed, such as lamb.
Roast lamb, grilled lamb or suckling lamb, which is particularly typical in Castilla y León. Places such as Valladolid or Aranda del Duero, in Burgos, are devoted to this delicacy, where it is undoubtedly prepared to perfection.
Since every day is an opportunity to learn, here are some restaurants in Madrid that serve delicious lamb and are well worth trying.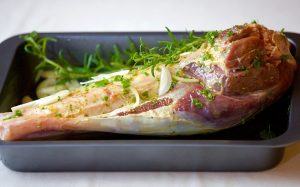 Asador de Aranda. As you would expect, Aranda del Duero has managed to pass on its culinary skills and its name in the best possible way. This restaurant can be found on Diego de León, Plaza Castilla or Calle Preciados. Those in the know say that it is without a doubt the best lamb in Madrid.
Horno de Juan. Located on Lope de Vega Street (Goya Metro with Príncipe de Vergara). With a traditional wood oven, this restaurant has been around since 1966. You can enjoy a delicious Segovian-style lamb or, for those who prefer, it is also famous for its suckling pig.
El Mesón de Fuencarral. A little further away, on the road to Colmenar, this rotisserie is a place of pilgrimage for lovers of lamb. It is an ideal place for families with children, as it has a large garden with swings.
Al Mounia. Located on Calle Recoletos, this was the first Moroccan restaurant in Madrid. Currently closed for renovation, its lamb, flavoured with typical spices, will leave you speechless. Different from the other traditional dishes we've mentioned, it has a delicious flavour and is not to be missed by meat lovers.
Categories: Madrid Restaurantes
« (Español) Madrid también celebra Thanksgiving
José Sacristán, Chinchón's chief ambassador »