Uniqlo opens its largest store in Spain in the heart of Madrid's Gran Vía
Uniqlo has gone all out in Madrid with this big move. After opening its first store in the Salamanca neighbourhood three years ago, it has now decided to set up shop on one of the city's main thoroughfares: Gran Vía.
This will be its largest store in Spain, underlying the textile giant's commitment to the Spanish market.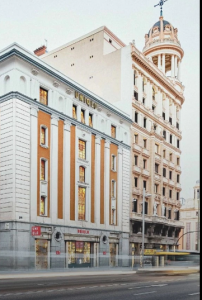 In addition to the store on Calle Serrano, the Japanese brand also has a presence in Barcelona, in central locations such as Paseo de Gracia and Diagonal, and has not ruled out opening stores in other Spanish cities that benefit from tourism and especially shopping tourism.
The Gran Vía store has a surface area of 2,200 square metres spread over four floors. This is no mean feat and is in line with the standards set by the British company Primark, which had to contend with queues for months after its opening.
As is always the case when a new store is opened in an empty building on Gran Vía, ideas of creating new cultural spaces are abandoned. In fact, where Uniqlo now stands, was a space once occupied by Avenida cinema and Pasapoga theatre.
As always, this is not to everyone's taste, and this opening, which was announced with great fanfare and featured on the advertising panels on many buses in the centre of Madrid, was also the subject of controversy. This is because the Gran Vía is becoming increasingly populated by large-scale shops rather than theatres and auditoriums on what is supposed to be Madrid's Broadway.
However, it is also important to note that the Japanese brand has respected the whole nature of the building inside, preserving the design and the murals that once enchanted audiences at shows.
Categories: Madrid Turismo
« José Sacristán, Chinchón's chief ambassador
(Español) Nueva exposición por el centenario de Tutankamón en el Palacio de Liria »