Madrid's Landscape of Light, a UNESCO World Heritage Site
Madrid is in luck. At the end of July it was announced that Madrid became part of the UNESCO world heritage list with the so-called Landscape of Light, comprising the Paseo del Prado and Buen Retiro, Landscape of Arts and Sciences.
This event, promoted by the City Council, has caused great joy, both to the administrations and to ordinary citizens, who have felt the recognition of a setting that is unique for its urbanism, but also for what it means.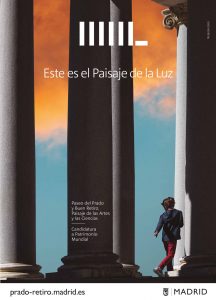 This area, in addition to being home to the most important museums in the capital, also stands out, as the Ministry of Foreign Affairs itself pointed out in a press release, for "presenting a space of urban nature that emerged in the mid-sixteenth century as an intramural grove, constituting the first walk within the limits of the city of all European cities and capitals: a space in which all citizens, without distinction of classes, could enjoy leisure and walking."
With the inclusion of this area within the UNESCO world heritage it is expected that more visitors will come to the city, already attracted by the already-existing great cultural offer, both in the museums of the so-called Art Triangle, as in others more hidden from the city, as well as by the theatres and shows of Gran Vía and surroundings.
Although travel was frozen during March 2020 due to the pandemic, it is beginning to see a little more movement in recent months, both in terms of foreign tourists and domestic tourists. Undoubtedly, the Landscape of Light will be one of the tours that will be made most to live in first person the experience of walking through an area that is a UNESCO world heritage site.
Categories: Madrid Cultura
« The Retiro bunker can be visited in 2022
Three places to enjoy gazpacho »