The Retiro bunker can be visited in 2022
Retiro seems to be a bucolic park that occupies several blocks in the centre of Madrid, the perfect place to take a stroll, feel the freshness of its air and lake, admire the flowers in the rose garden or do sport avoiding the asphalt. That's what everyone understands Retiro to be, a great oasis in the centre of Madrid.
But these gardens include a lot more, with the weight of recent history. And the fact is that, although few people know it, beneath its appearance of rest and pleasure lies a Civil War bunker that can be visited from next year onwards.
It is an air raid shelter located at the gate near Menéndez Pelayo and Calle Ibiza. It is also interesting to note that this bunker was not discovered until 2013, which also raises the question of how many similar shelters the city may have, in addition to the Capricho bunker, in Alameda de Osuna, which has already been scheduled for visits this spring.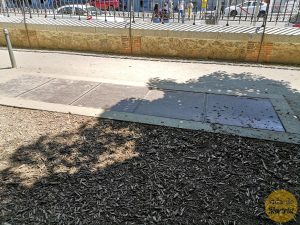 The Retiro shelter, according to the Madrid City Hall's Heritage Department, was built by civil society. With a capacity for up to 275 people and very narrow tunnels 8 metres deep, during the post-war period it is said to have been used for mushroom cultivation, due to its humidity and low light conditions.
Although you can see from the outside where it is located, you will have to wait until 2022 to be able to take part in the guided tours the City Hall is going to offer, and which will allow only small groups to enter in order to safeguard this important vestige of the country's recent history.
And the fact is that Madrid is still full of traces of the Civil War, in a sort of reminder that, in reality, it was not so long ago and that, therefore, it is advisable to banish the idea that history is cyclical. At least in this case.
(Photo extracted from https://www.vidademadrid.com/es/33242/bunker-parque-del-retiro-ubicacion-apertura-madrid-2022/)
Categories: Madrid Turismo
« Why colchoneros and merengues?
Madrid's Landscape of Light, a UNESCO World Heritage Site »