Three places to enjoy gazpacho
On July 21, World Gazpacho Day was celebrated, a date that should have been well marked in the calendar of many people, especially lovers of gastronomy and especially of this juice.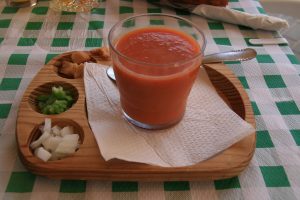 This recipe, that has its origin in Andalusia, is probably one of the freshest and most sought after dishes during the summer, both by the people of Madrid themselves and by the people who visit the city.
This mixture of tomato, green pepper, cucumber, onion, water, garlic and salt listed by Carmen Maura in Women on the Verge of a Nervous Breakdown, has crossed borders for its flavour and its ability to refresh on the hottest days of summer, although it is not uncommon to find people who drink it throughout the year.
Although there are many kinds, – beetroot gazpacho, cherry gazpacho, watermelon gazpacho, etc. – the traditional recipe is the favourite one. In Madrid, there are many places where you can find this refreshing dish. Below we list some of the most important:
Mamá Campo. An ecological restaurant that is located in the plaza de Olavide. Upon entering the restaurant you can feel the freshness that comes right from the garden. Their gazpacho is made with the best local products and has a unique and genuine flavour.
La Tasquita de Enfrente. A traditional place that is located in the Callao area. In addition to tasting the usual recipe of this good gazpacho, do not miss its Olivier salad, another successful dish of the famous restaurant.
Candeli. Located in the trendy area of Ponzano, this restaurant stands out for its traditional cuisine and the use of seasonal, fresh and local products. Their gazpacho is outstanding and with a special texture, since for its elaboration they use different varieties of tomato.
Categories: Madrid Restaurantes
« Madrid's Landscape of Light, a UNESCO World Heritage Site
(Español) Vuelve la Noche de los Libros »