Five restaurants where you can eat calçots in Madrid
If there is one thing food lovers agree on, it is the importance of eating seasonal produce. For some time now, in one way or another, we have had access to a wide variety of fruit and vegetables. Respecting natural cycles and promoting them is important for a healthy and balanced diet.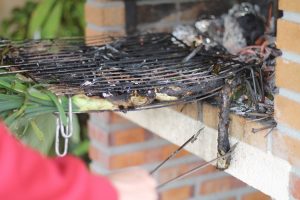 And this is the season for calçots, which runs from January to March, so hurry if you haven't tried them already. This vegetable from Catalonia is a tender onion that is grilled and often accompanied by a romesco sauce.
Although calçots are traditional in Catalonia and the star of the famous 'calçotadas' or winter barbecues with friends, here in Madrid, more and more restaurants are working with this product and offering the experience and delight of calçots to their diners.
These restaurants include:
Casa Jorge, on Calle Cartagena. Specialised in Catalan food and very popular during the calçot season.
Can Punyetes. There are two in the city of Madrid, one on Calle San Agustín (Antón Martín metro station) and another on Ópera. As well as other typical Catalan dishes, it stands out for serving great calçots.
El Economato, in the Chueca neighbourhood. Brought directly from Valls, the calçots here are barbecued and served with a hazelnut-flavoured romesco sauce.
La Huerta de Casa Ricardo. Originally located on Avenida de la Ciudad de Barcelona, the calçots here are cooked over holm oak charcoal and accompanied by a romesco sauce with a hint of spice. It has opened two other establishments in the Ibiza neighbourhood.
Restaurante Calsot. For those who want to make the most of those wonderful, spring-like winter days, this restaurant in Hoyo de Manzanares, in the Community of Madrid, is the ideal place to enjoy a calçotada and sample other typical dishes and grilled meats.
Categories: Madrid Restaurantes
« Spain now has a representative for Eurovision
Oasiz, the huge shopping and leisure centre in Torrejón de Ardoz »