Oasiz, the huge shopping and leisure centre in Torrejón de Ardoz
If you thought the pinnacle of original shopping centres had been reached with X Madrid in Alcorcón, you were very much mistaken. Now, the hottest new development is the one that has just opened in the town of Torrejón de Ardoz.
Oasiz is located in the Torrejón Business Park. It has more than 250,000 m2 of floor space and is characterised by its many outdoor attractions. Everything is centred around the two lakes, which even have a jetty, where music and light shows take place at sunset. There is also a small beach and a beach club with a jacuzzi and even a swimming pool.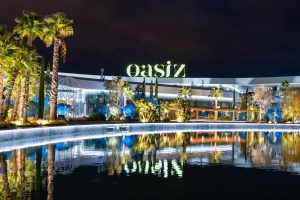 It offers a wide range of dining options in a pleasant space reminiscent of a summer resort; you may even forget that you're in Madrid!
As for the shopping centre, it has space for 117 shops and a large car park with around 4,000 parking spaces. In addition to shops, supermarkets and cinemas – yes, there are also cinemas – Oasiz offers a coworking centre and a gym, which is very convenient considering that it is located in the business park.
Also, to facilitate access, more buses have been made available to make it easier to arrive by public transport.
This shopping centre, owned by a French company, is conceived as a large leisure complex, almost a resort, and faces the challenge of establishing itself at a time when the economy is still suffering from the pandemic which broke out in March 2020.
Oasiz is definitely worth a visit for a laid-back day out in the sunshine. It offers the perfect place for a day of shopping, food and even a swim at the beach, all without leaving Madrid.
(Photo taken from www.dream-alcala.com)
Categories: Madrid Ocio
« Five restaurants where you can eat calçots in Madrid
(Español) Andy Warhol, hasta el 5 de junio en Madrid »