Did you know that Pablo Neruda lived in Madrid?
If there is one Spanish poet everybody knows, it is Pablo Neruda. Throughout his life, he crossed borders with his verses, his way of living and being. Although he is admired by all lovers of literature and philosophy, little is known about the poet's years in Madrid.
Pablo Neruda arrived in the capital in 1934 to work as a cultural attaché at the Chilean consulate in Madrid, having previously worked in Barcelona. He was very excited about arriving in the city because of his good relationships with some of the most important writers of the time, such as Federico García Lorca, who he had met in Buenos Aires and remained in contact with.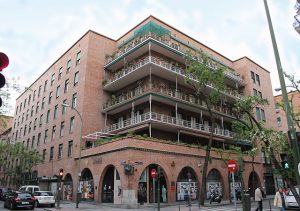 The Chilean first stayed at the Hotel Mediodía de Atocha, one of the few remaining hotels that still has its original name. This was at a time when Madrid was experiencing one of the worst periods in its history, barely two years before the outbreak of the Civil War.
He later moved to Casa de las Flores, in the Argüelles neighbourhood, known for its large balconies bursting with flowers. Neruda loved the neighbourhood, and this is where he hung out with other writers. He loved to go to the market, to the taverns… to enjoy the cultural and social life of Madrid with his inseparable friends Federico, Alberti and Miguel Hernández.
When the war broke out, however, he had to leave and found work in Paris as an immigration officer, trying to help those who sought refuge in France.
It is said that La Casa de las Flores lost its colour after Neruda's departure. It is also said that executions were carried out in the courtyard of the building during the war and that the flowers have never returned to the balconies with the same intensity as before.
Categories: Madrid Cultura
« (Español) Cinco planes para esta Navidad en Madrid
La Real Academia de Bellas Artes de San Fernando, a gem waiting to be explored »