La Real Academia de Bellas Artes de San Fernando, a gem waiting to be explored
Madrid always has something to discover. A street with history and character, a statue that had gone unnoticed, a house that was home to an illustrious personage, or a palace that you have walked past many times without paying attention and that is home to secret treasures.
We are talking about the Real Academia de Bellas Artes de San Fernando (Royal Academy of Fine Arts), located in the heart of Madrid, on Calle Alcalá, 13, right beside Sol. This building was inaugurated in 1752 under the reign of Fernando VI and is, as its website states, the longest-running and most culturally relevant arts institution in Spain.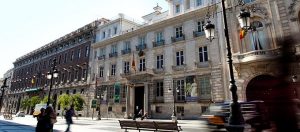 The Real Academia de San Fernando is part of a network of institutions created to promote culture, art and heritage, and there can be no doubt that it has achieved this goal, given the collections it houses and the activities it carries out throughout the year.
Last Christmas the academy also offered a special programme that ended on the 5th of January. This featured a 4m Christmas tree in the courtyard, a short film by Arantxa Aguirre, the exhibitions Fish from the Seas of Spain, Romantic Spain and the Massacre of the Innocents – The Prince's Nativity Scene.
If the Royal Academy of San Fernando stands out for anything, however, it's for its links with Goya, who became interested in the institution in 1763 and entered a competition organised by the academy. Despite not winning, he closely followed the activities and initiatives sponsored by the institution and essentially became its most notable supporter.
The Royal Academy of San Fernando currently houses more than a dozen of his works in the form of self-portraits that are highly representative of his career.
(Photo taken from the website https://www.realacademiabellasartessanfernando.com/)
Categories: Madrid Cultura
« Did you know that Pablo Neruda lived in Madrid?
Atocha, more than just a train station »