Madrid unveils a new design for its KM0 plaque in Sol
The Puerta del Sol is the epicentre of the city of Madrid. Both figuratively and literally.
In the first sense, it is the place where everything comes to life, and not just on New Year's Eve, when it appears on the television screens of almost every Spanish household as they gather to eat the twelve lucky grapes. Sol has always been a square full of activity, a place to hang out, a place to rest around the fountain and a place to visit.
In the second sense – the strict sense – Sol is the epicentre of the whole of Spain. KM0 is where all roads begin, where everything starts and where everything ends.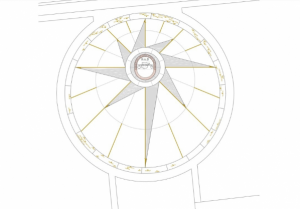 Since 1950, in front of the Casa de Correos, now the seat of the Community of Madrid, there has been a famous plaque, the Kilometre Zero plaque, that all visitors to the city must see. This place was chosen because, during the reign of Carlos III, the postal system was starting to take shape and it seemed appropriate that everything should begin at the doors of the building.
Now, after many years, the plaque has been redesigned to make it much more visible. The design features a circle that resembles a compass rose, a symbol of direction, in a nod to the roads and motorways that lead from this point. In addition, all the provincial capitals and autonomous cities are represented in this new design, so that visitors from all over the country will feel identified in some way.
This is not the only new feature of the Puerta del Sol. The Statue of the Bear and the Strawberry Tree has also been moved. It is now in the northern arch of the square, next to the new arrangement of benches. This is the third time the 20-tonne statue has been moved.
(Photo of the old plaque, extracted from a report by 20 minutos.es)
Categories: Madrid Cultura
« Violet sweets: one of Madrid's most traditional treats
(Español) Pop Air: el arte inflable llega a Madrid »