Violet sweets: one of Madrid's most traditional treats
If there is one typically Madrilenian sweet, it has to be its caramelos de violeta ("violet sweets"). Though they are now in many other cities, the originals can be found in the sweet shop La Violeta, located in the Plaza de Canalejas, right in the city centre.
This establishment was inaugurated in 1915 and is one of the few still standing, having become part of the city's heritage and a site of interest both for the locals and for tourists who also want to taste this historic sweet.
Purple in colour, with five petals, it perfectly recreates the essence of the violet, so much so that one feels to be eating the flower itself. It is said that the original recipe is jealously guarded.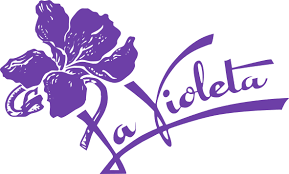 These sweets have conquered the palates of kings, such as Alfonso XIII, or playwrights, such as Jacinto Benavente, and many personalities from the world of culture, politics and cinema in Madrid.
Such was their popularity during the 20th century that there were few children in Madrid in the 1990s who were never gifted their very own box of violets or violetinas, as they were also called, by their grandparents. It was practically a tradition.
Violets are also a much sought-after sweet in France, especially in Toulouse, which makes them even an even more prized and exclusive possession.
Nowadays, as we said earlier, you can find these sweets almost anywhere. You can buy them in bulk in almost any city in Spain. But if you want the authentic experience, you have to visit La Violeta and travel back in time through that centenary shop to an age when there was no internet and the flower was known thanks to the violeteras who picked them in the mountains of Madrid and then walked the streets of the city selling them on the go. This inspired a well-known film starring the great Sarita Montiña.
(Photo obtained from the website of La Violeta)
Categories: Madrid Ocio
« To what does La Latina owe its name?
Madrid unveils a new design for its KM0 plaque in Sol »