The best croquette in Spain can be eaten at Santerra, in the Salamanca neighbourhood
If there was one event that had all eyes on it during the month of March – apart from the Oscars with Will Smith and Chris Rock – it was Madrid Fusión. Without so much controversy around it, the fair at Ifema was a hive of activity with the world's most renowned chefs, innovative recipes, competitions and events.
Madrid Fusión celebrated its 20th anniversary in style. With a record number of attendees, Madrid became the capital of avant-garde cuisine during the event. In the aisles of the exhibition centre, there was the opportunity to see many impressive culinary creations.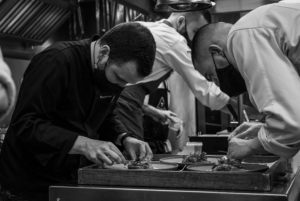 Among the activities at the fair, one of the best was the competition to find the best Iberian ham croquette, evaluating flavour and appearance, saltiness and texture in a blind tasting with experts from the world of cooking and food.
In a surprise win, the 2018 winner took the title again. There is no doubt about it, Miguel Carretero's Iberian ham croquette is the best in Spain. Its creator says that the secret lies in the selection of quality products and the care with which the béchamel sauce is made, ensuring that it is balanced and has the perfect texture.
This croquette can be tasted at his restaurant in the Salamanca neighbourhood. On Calle General Pardiñas, 56, you can appreciate all the cuisine by this great chef who offers a complete seasonal menu, or, for those who prefer, there is also Neotaberna restaurant, in the heart of Calle Ponzano. Reservations must be made in advance. On top of the restaurant's usual success, many people have now decided to visit to try the best Iberian ham croquette in Spain and, possibly, the world.
(Photo taken from www.santerra.es)
Categories: Madrid Restaurantes
« (Español) El Primavera Sound 2023 también se celebrará en Madrid
Frida Kalho in Madrid until February 2023 »