The Three Kings Parade, a long-standing tradition
At this stage of the game, not even the Three Kings have been able to avoid the restrictions imposed because of the coronavirus, and the entire Community of Madrid has had to improvise to get their boys and girls to understand that the kings have not forgotten them and that they have everything sussed out.
Like every year, Melchior, Caspar and Balthazar, with the help of their pages, will leave presents in houses all over the city to make the night of 5 January the most magical night of the year.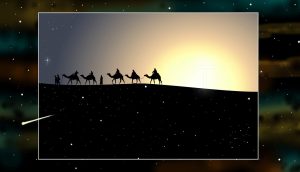 With coronavirus, things have been different. In some municipalities, the Kings have come from the East in hot-air balloons, and in others their caravan stayed still so that cars could drive up to see them. In the centre of Madrid their arrival was announced with a display of lights, fireworks and shooting stars while they could be seen in the flesh in the Conde Duque cultural centre, a closed space with limited access that was broadcasted live on TV for an evening and a night to keep the tradition alive and kicking.
Because this is a long-standing tradition. There is no doubt that the Three Kings really existed. The Bible mentions them but does not provide many details, and some historians claim that anything from two to seventy magi might have gone to worship the Baby Jesus. The number would then have been simplified to three as a nod to the Holy Trinity.
In any case, the origin of the parade on the streets of Spain is easier to trace. We need look back no earlier than 1885 in the city of Alcoy, in the province of Alicante. This is where they were spotted for the first time.
This tradition would only reach Madrid in 1915, which was the year when the parade was first celebrated in the city. Clearly, that parade was nothing like the one celebrated in 2020. Although the tradition was late in reaching the capital (it had reached Barcelona in 1879 and Granada in 1912), it is now widely famous. Let's hope it will be the last time we will have no choice but to follow it on TV.
Categories: Madrid Cultura, Madrid Eventos
« (Español) El sueño americano en el CaixaForum Madrid
Rodrigo de la Calle's El Invernadero wins the Green Michelin Star »