José Grases Riera, creator of the Palace of Longoria
In Madrid there are several surprising stately buildings bound to make an impression, especially in the centre of the city, which feels like an outdoor museum. However, there is one particular building that stands out amongst all the rest and that is the Palace of Longoria, also known by the name of the institution it houses: the General Society of Authors.
This Modernist building bursts out of the area where Alonso Martínez and Chueca meet, and even feels like it is moving. It is reminiscent of the works of Gaudí in Barcelona, a style that mostly stayed in Catalonia and didn't permeate much into Madrid, where we can only find this building and Casa Gallardo on Plaza de España.
The Palace was designed by architect José Grases Riera by order of the banker Javier González-Logoria, hence its name, between 1902 and 1914. The architect was given no directions for his design. So, influenced by Catalan modernism, he came up with a result now familiar to all.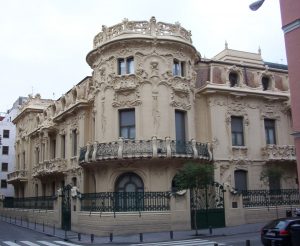 The Palace was originally the headquarters of the Spanish Dental Association and the home of its president in 1912. It had to be reformed in order to separate the corporate area from the living quarters. Some years later, the building was sold and renovated again.
It wasn't until 1950 when it reached the General Society of Authors, who kept it the way it is today. Its exterior and interior (which can be visited) are delightful to see.
But the trace of José Grases Riera does not end there. He also went on to design the great monument to Alfonso XII in Retiro Park, where many sit to spend the evening or admire this impressive architectural construction from the lake, while enjoying a romantic and/or fun boat trip.
Categories: Madrid Turismo
« Cervantes and the boxes of literature
(Español) 275 años del nacimiento de Goya »