The Ritz Hotel opens its doors again after three years
There are places, foods and shops that, through their history, have become part of the city's heritage. We all know about the Café Comercial or the zapatilla sandwich of Lavapiés, but just as we talk about legendary bars and shops, we should also mention certain hotels such as the Ritz, which has once again opened its doors after three years of renovation works.
This hotel, far from presenting itself as a mere place of rest for those who stay in it, invites its guests to delve into a luxurious experience through its décor, majestic lamps, lofty spaces, high-class designer furniture and the staff's outstanding kindness.
The Mandarin Oriental Ritz, as it is now known, has been in this city for more than 110 years. Designed by the French architect Charles Mewes, and done in the style known as Belle Époque, it has welcomed into its halls several personalities from the worlds of culture, art and royalty.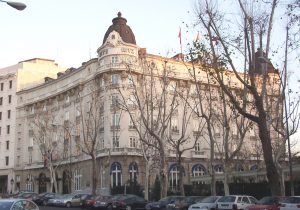 It was precisely Alfonso XIII who, after his wedding, sponsored its construction as he thought that Madrid didn't have a single hotel worthy of royalty.
As well as the elegant rooms, it also has more than 50 suites, most notable of which is the 200-m2 royal suite.
Spending a night in the Ritz can cost upwards of €600, but those who wish to partake of its charm and luxury can always stop for a cup of coffee or brunch or have dinner in the famous restaurant headed by chef Quique Dacosta, which has 3 Michelin stars.
This is a hotel with unique gastronomic proposals, a variety of spaces for all tastes in which to relish an explosion of flavours that, together with the setting, is bound to make an impression. This is one of those things you have to do at least once in a lifetime.
Categories: Madrid Ocio
« The "Noches del Botánico" are back
Justo Cathedral, in Mejorada del Campo »