Aranjuez and the Strawberry Train
The Strawberry Train has just completed a new season. This historic train connects Madrid with Aranjuez, yet another attraction that confirms that the journey is just as important as the destination.
It was the first railway in the Community of Madrid, built by the order of Queen Isabel II. It was used to transport fruit and vegetables from the orchards, hence the name. It has been running since 1984 and is today part of Madrid's cultural landscape, making it possible to visit Aranjuez in style. In fact, those who travel on this train with staff in period costumes can choose between many different routes that all lead to the town.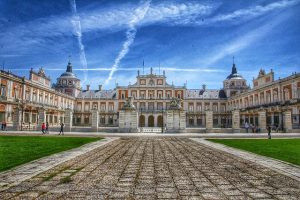 We will have to wait until next September to live this experience again. But Aranjuez is still there and can be visited at any time of the year, even if it is only by regular train.
Aranjuez is mostly known for its ties with the monarchy. In fact, the Royal Palace is undoubtedly the most important thing in this city. It is in an almost perfect state of preservation. You can walk inside to explore it, but to be on the safe side you should buy tickets online in advance. Your visit also includes entry to the Museum of Royal Feluccas, which boasts a collection of royal sailing vessels; and to the Casa del Labrador, a mansion with lots of charm and personality.
The gardens are another notable feature. The gardens of Aranjuez are a real attraction and a pleasure to stroll through. The Isabel II Garden, the Island Garden, the Prince's Garden, the Parterre Garden and the King's Garden are some of the ones you simply cannot miss.
A walk through the town centre and a meal at the market or in one of several legendary restaurants are the perfect way to round off the visit. And remember: don't forget to order strawberries for dessert!
Categories: Madrid Cultura
« (Español) El madrileño Dabiz Muñoz, el mejor cocinero del mundo
The best croissants in Madrid »