The new Plaza de España is now open
Renovation work has finally finished and Plaza de España is now open to Madrid's locals and visitors, following a fantastic re-opening ceremony. This mythical square, situated right at the heart of the city centre, had been closed for renovation for such a long time that it almost blended into the scenery.
At the end of November, the results of this ambitious project were finally revealed, going back to the original idea, first approved in 2017. Four years passed until visitors started flocking back to this new space, where they can enjoy the perfect balance between green spaces and the urban district of Gran Vía.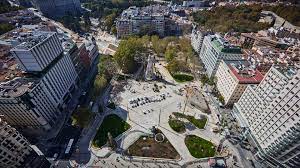 Restructuring the square has connected the historical centre with the Royal Gardens and the Royal Palace, the Parque del Oeste, and leads onto the famous Temple of Debot, Madrid Río Park and Casa de Campo, creating a new car-free zone. Over these 37,000 squared metres, pedestrians are in charge. This leisure zone lights up the city centre and joins together different areas that it is connected to.
The statues of Don Quijote and Sancho Panza remain untouched. When the project started, the architects considered turning them to face West, but this was not possible in the end as they are Products of Cultural Interest (Bien de Interés Patrimonial), so they will remain as they were.
70 million Euros have been invested for this project, which has also uncovered XVI century archaeological remains. These were the walls of the Royal Stables, and remains of the XVIII century Godoy Palace cellars, giving us hints about the history of the outer edges of the city, which oozes from every corner of the capital.
(Photo taken from LA RAZÓN)
Categories: Madrid Turismo
« A piece of Valencia in Madrid
(Español) Wah, el plan perfecto para estas Navidades »