Pride returns on its 30th anniversary
After two years of pandemic, the Madrid Pride has returned with even more pride than ever.
This festival to stand up for the LGBTIQ+ community has become a tradition in the city and is an attraction for many people who visit the city every year to celebrate free love and diversity.
This year is special. On top of not having been able to celebrate it for the past two years, this year's event also coincides with the 30th anniversary. For this reason, the organisers have prepared a number of surprises to make sure that this year's celebration will be truly unforgettable.
The event is rarely held in July because International Pride Day is on 28 June, and it is usually centred around this day. However, in 2022, the calendar has dictated that the Pride festivities will start on Saturday 1 July. The proclamation, which is always of interest because of the chosen celebrity speaker, will be held on Wednesday 6 July in Plaza Pedro Zerolo and the traditional race in high heels will be on 7 July.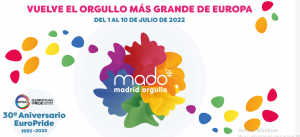 For the duration of the event, the Chueca neighbourhood becomes the epicentre of Madrid, even Europe, as this festival has set a benchmark worldwide. The streets will host different events, from family activities to talks, music with surprise guests, performances, cinema and debates.
The main parade, which will coincide with all the other parades held throughout Spain, will take place on Saturday 9 July. It is expected that more than 50 floats will take part, with more enthusiasm, marching and excitement than ever to stand up for the freedom to love whoever you want and to reject the hatred that still exists towards diversity.
The Pride festivities will close on 10 July.
Categories: Madrid Ocio
« (Español) Muere la fotógrafa de la Movida: Ouka Leele
(Español) Madrid y la cumbre de la OTAN »