A different Christmas
Only a few weeks before putting an end to the year 2020, looking back on this year and all the things we have been through is no easy task.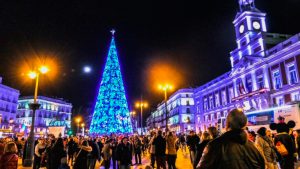 The images that come to mind and the things they make us feel are frightening, which makes it even more interesting to reflect on them to gain momentum and face the future filled with self-confidence.
Perhaps that was the conclusion reached by Madrid's city hall, which has lined the streets of the city centre with the typical Christmas lights, as if to say that we draw the line at Christmas.
Even though when the lights were first lit on Black Friday and social media users were outraged at the amount of people who seemed to be out on the street, Madrid is a lot more timid and warier than usual.
This year, El Corte Inglés missed its appointment with Cortilandia for the first time in 45 years and the street in front of the shopping centre looks sad and dreary. The same thing happens in Callao, where the traditional house that can usually be visited has not even been set up this year.
On the other hand, the market on Plaza Mayor didn't want to miss out on the festivities, and despite there being fewer stands than ever and limited access, it is there one more year huddled around the candles that light up the façade of the square and the traditional giant tree.
Over the last few years, the giant ball of light of the Gran Vía also joined Madrid's list of Christmas classics. And there it is once more, with its mapping and music lower than usual so as not to cause a stir and remind people to keep their festive spirits low-key.
And the cast would not have been complete without the tree of Puerta del Sol, which, together with a large manger, on 31 December will accompany us as we draw the curtain on this year. Even if no one will be able to eat the traditional grapes there.
(Photo by Telemadrid)
Categories: Uncategorized
« (Español) ¿Quién mató a Sherlock Holmes?
(Español) El sueño americano en el CaixaForum Madrid »