A whole new world: Aladdin comes to Gran Vía
Aladdin, the musical, has finally arrived in Madrid and is now on the Gran Vía. Directly from Broadway, this adaptation of the Disney film will be at the Teatro Coliseum until at least September 2023, although it would be no surprise if Aladdin decided to stay longer after the unstoppable success of The Lion King.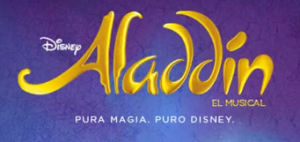 Disney released Aladdin in 1992 and it was very well received, thanks to the story, the likeability of the characters and the atmosphere in which it all takes place. Its soundtrack accompanied thousands of children in the 90s, who still sing along to the song "A Whole New World", and video games and merchandising were sold in huge quantities.
Many years later, in the new wave of animated film adaptations, such as The Lion King and The Jungle Book, it once again become a box-office hit, thanks to the likeable genie played by Will Smith.
The musical is also one of the biggest box office hits on Broadway. Located near Times Square, the theatre is owned by Disney, which is why it often hosts shows by the company, such as Mary Poppins a few years ago.
Here in Madrid, it joins a long list of successful productions in the city centre. A spectacular show with more than 80 special effects, a tap dance number, recreations of scenes that will transport you to another world without ever leaving your seat, and more than 140 professionals to make sure everything goes off without a hitch. And yes, the carpet flies.
Tickets can be bought online in advance to avoid queues and missing out on a seat. Prices start from €25, and you can choose the time that suits you best – afternoon or evening.
Categories: Madrid Ocio
« (Español) Pop Air: el arte inflable llega a Madrid
(Español) Mamut. El gigante de la Edad de Hielo en Caixa Forum »