Three Indian restaurants not to be missed
Madrid is an amalgam of cultures. This is probably one of the main draws of the city, which blends traditional and classic elements with the influences from other places, including some from very far away. In Madrid, there is a place for everyone, and everyone can contribute a little piece of their homeland.
This can be seen very clearly in the cuisine. There are restaurants of all kinds, and this culinary journey is an opportunity not to be missed.
Indian restaurants are probably among the most numerous and appreciated in the city. The flavours, spices and aroma, as well as the excellent service have made these restaurants very popular with many visitors.
Here are some of the best Indian restaurants in the city that you should visit at least once in your life.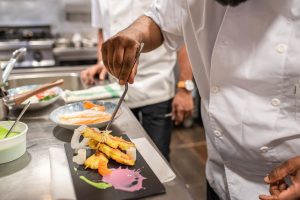 Tandoori Station. Located on Calle Ortega y Gasset, 89-91, this is probably the best-known restaurant as it appeared on some editions of Masterchef. Its star dishes are curry and biryani, which is a rice dish with meat.
On Calle Cartagena, 82, and Nuñez de Balboa, 29. This restaurant, with more than 30 years of history – the first was on Calle Cartagena – has an incredible reputation for its tandoori chicken, lamb and fish.
Located on Calle Bolivia, 11, this was the first Indian restaurant in Madrid. It was opened in the 1980s by a Spanish chef who fell in love with Indian cuisine and the possibilities offered by the multitude of spices and decided to open his own restaurant. The speciality here is lamb vindaloo and tandoori prawns.
(Photo from https://www.tandooristation.com/es)
Categories: Madrid Restaurantes
« Malasaña, more than just a neighborhood
(Español) Muere la fotógrafa de la Movida: Ouka Leele »