Restaurants with trendy music in Madrid
Restaurants with music are becoming increasingly popular in Madrid. It is a highly successful formula to ensure that diners stay for their after-dinner drink and don't go elsewhere. Why leave when you're comfortable and there's music and good vibes?
Madrid, as always, is at the forefront of this trend and new venues are springing up all the time, or existing ones are being transformed to offer this type of entertainment. Here are just a few: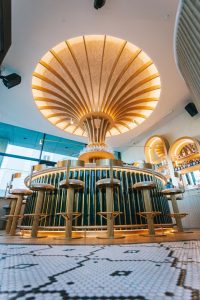 Perrachica. Located in Eloy Gonzalo, close to Plaza de Olavide. It belongs to Larrumba restaurant group. As well as serving good modern cuisine, after dinner, the tables are folded away and it becomes a nightclub.
La Mamona de Chamberí. You can find this brewery belonging to the LALALA Group without leaving the same neighbourhood. Just below you will find its sister venue, La Que Faltaba, a nightclub which also hosts live performances.
El Corral de la Morería. Next to the Jardín de las Vistillas, this place has a long tradition. It is one of the most important flamenco tablaos in the world and the first in Madrid. It combines haute cuisine with traditional dance.
Gula Gula. You will find this legendary venue on Calle Preciados, and it is a place you should visit at least once in your life. It is famous for its drag queen shows combined with eclectic food. It's immensely popular for stag and hen parties.
Tatel. Located on Paseo de la Castellana, this restaurant, which also has a branch in Beverly Hills, offers traditional food with a touch of innovation. The experience is complemented by an incredible cocktail bar, inspired by the 50s, as well as frequent live music and guest DJs.
(Photo: La Mamona, taken from the website of the LALALA group)
Categories: Madrid Restaurantes
« (Español) Madrid y la cumbre de la OTAN
(Español) Hergé. The Exhibition llega este otoño a Madrid »