Plaza Mayor, more than 400 years of history
Plaza Mayor is one of the capital's greatest hubs, and its vastness impresses the many visitors who flood in from Sol or Puerta de Toledo.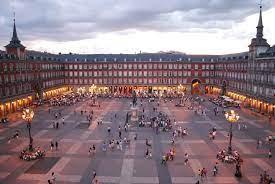 It is more than 400 years old and the masterpiece of King Felipe III's architects, Juan de Herrera and Juan Gómez de Mora. It is therefore not surprising that the statue of the King on horseback is right in the middle of the square.
This square was designed to celebrate different events in this period, equestrian shows, or festivals. If we think about it, the purpose of this 129 x 94 metre space remains the same.
From the buildings which are still there, surrounding the square, the Baking House (Casa de la Panadería) stands out. This was Madrid's most important workplace for many years since its construction began in 1590. The building is now used as offices and is not open to the public, but the Plaza Mayor Tourist Information Office is on the ground floor. Opposite the Baking House was the Butchers, which is now a hotel.
The Plaza Mayor has been affected by three fires, the first just eleven years after it was built. Modification work was completed during each reconstruction, giving us the Plaza Mayor that we know today.
This month, the Plaza Mayor is lit up with splendid festive lights, becoming one of the most visited places in the city. Locals and visitors flock to see the Christmas market, a city tradition dating back 150 years, except for the year when it was moved to the adjacent Plaza de Santa Cruz.
The atmosphere is warm and friendly, and you almost get the impression that time stands still, with the lights, the nativity scene figures and the trick products.
Categories: Madrid Turismo
« (Español) Wah, el plan perfecto para estas Navidades
El Escorial nativity scene, a tradition that never fails »