Mafalda is left orphaned
This September ended sadder than it began, regardless of the fact that the world is in the grip of a pandemic that is bringing scientists, doctors and politicians to their knees. To this whole global crisis that has been dragging on since before spring, we must add the departure of Quino, the Argentinian artist who created Mafalda and looked after her almost as if she were his daughter.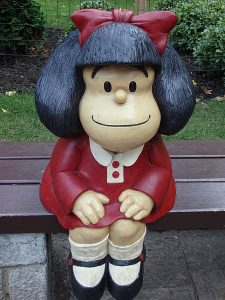 Joaquín Salvador Lavado, Quino, died on 30th September in Mendoza, his hometown where he had stayed after the death of his wife in 2017. Quino's death has crossed borders and many cartoonists and people from the world of culture have mourned his death and made their small tributes, especially on social media.
Drawing cannot be understood without the strokes of this great artist. Not even life itself could be understood or lived in the same way if Mafalda, that little nonconformist who questioned everything and who hated soup, had not preceded us.
Mafalda and her friends grew up during some years of changes and transformations in the political and social landscape across the globe, which made her special and loved by the great majority.
This girl also had a great relationship with Spain, as Quino was the son of Andalusian emigrants and had travelled to our country on different occasions, both for book launches and to receive awards for his career.
In fact, in 2000 Quino was appointed Honorary Professor of Humour by the University of Alcalá de Henares, where he returned a year later to collect the second Quevedos Prize for Graphic Humour.
In 2014 Quino won the Prince of Asturias Award for Communication and Humanities, an event which saw the inauguration of the Mafalda statue which rests quietly on a bench in the park Campo de San Francisco in Oviedo and which, like the one in San Telmo, is still full of flowers today to bid farewell to this great genius who has left us.
Categories: Madrid Cultura
« (Español) La Feria del Libro de Madrid ya no se celebra este 2020
(Español) Sorolla, femenino plural hasta enero de 2021 »