Legends of Madrid: Palacio de Linares
The Palacio de Linares is located on Paseo de Recoletos, just across from the Cibeles fountain. It is a stately mansion which currently consists of the Casa de América and a restaurant, La Raimunda, with a stupendous patio, ideal for lunches or dinners, particularly in the spring, and an interior which impresses all visitors for its decor and magnitude.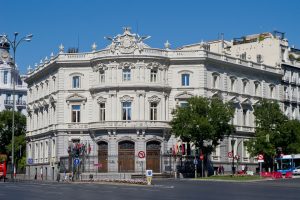 Before the building began to be used for its present purposes, it was the central feature of one of the city's most famous legends. In fact, it's no accident that the restaurant itself is called the Raimunda.
According to legend, the palace was occupied by José de Murga y Reolid and his wife Raimunda de Osorio y Ortega, the daughter of a cigarette maker from Lavapiés. José's father was against the relationship from the very outset.
The father opposed the match – not because he didn't want his son, the marquis of Linares, to marry a cigarette maker's daughter as one might suppose – but because she was actually his own daughter, born out of wedlock, which meant that José and Raimunda were brother and sister.
Despite this knowledge, the couple's love for each other was so great that they obtained a papal bull permitting them to live together on the sole condition that they remain chaste. But Raimunda became pregnant with Raimundita, who died shortly after birth from fear that this act of incest should be discovered.
According to legend, Raimundita's ghost still haunts the house. The legend was the topic of numerous television programmes relating to mysteries and paranormal phenomena for many years.
At the present time, in addition to the restaurant, with its international and traditional food, and the Casa de América, which hosts a variety of activities, dramatized visits to the palace are held in which the legend is told and visitors can explore the entire palace that bore witness to this tormented love story.
Categories: Madrid Cultura
« (Español) Madrid Design Festival celebra su cuarta edición
(Español) La feria ARCO celebra su 40 aniversario »