Atocha station to be named after Almudena Grandes
According to a statement by the Minister of Transport and Mobility, Raquel Sánchez, at the beginning of the month, Madrid's most famous train station, Atocha, will now have a second name: Almudena Grandes.
With this gesture, the government wants to pay tribute to this writer who died too young at the age of 61 from cancer, leaving behind four children and her husband, the poet Luis García Montero.
The life of Almudena Grandes ended on 27 November 2021 and since then there have been many tributes paid to her. Her career, her great works, her vitality and her interest in politics and social issues have meant that she has not gone unnoticed, as well as her friendships with important people in the world of culture in Spain, such as Joaquín Sabina, with whom she shared a summer residence.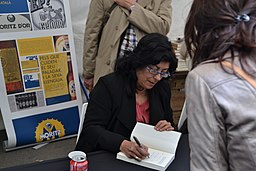 Her most famous works include Las edades de Lulú, Malena es un nombre de tango, Atlas de geografía humana and Corazón helado. The first three have also been adapted into films, which made the author's career even more successful.
And now, with her name on one of the busiest train stations in Spain, frequented by many tourists, her work will become even more widely known.
Almudena Grandes, who has also recently been named the favourite daughter of the city of Madrid, will also have her own street and a commemorative plaque on Calle Larra, where she lived.
Moreover, there will be more tributes to her throughout the year, in her memory and, above all, in memory of her work, which has survived her and which forms an integral part of major contemporary Spanish literature.
Categories: Madrid Cultura
« (Español) Andy Warhol, hasta el 5 de junio en Madrid
(Español) El Primavera Sound 2023 también se celebrará en Madrid »