Madrid's Royal Theatre wins the International Opera Awards
Madrid's Royal Theatre is proud to have been awarded the International Opera Awards, the most prestigious awards the opera world has to offer. This prize was awarded in 2019, as the 2020 edition was cancelled due to the COVID-19 pandemic, and the 2021 winners are yet to be announced.
The prize was awarded in a virtual gala while the theatre was showing Britten's Peter Grimes, and the theatre's success was then communicated to the public.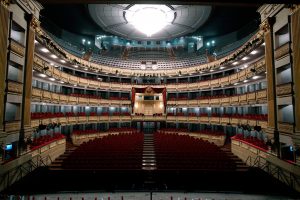 This prize recognises a programme of works which are enriching and of great interest, attracting theatre lovers from all over Spain and from further afield.
In 2019 the theatre offered six premieres and many productions and guest performances which were all very successful and contributed to an outstanding schedule. The other finalists included London's Royal Opera House, Frankfurt Opera, the Finnish National Opera of Helsinki, Paris Opéra Comique and Brussels' La Monnaie De Munt.
The Royal Theatre first opened in 1850 with the firm ambition to extol opera and performance. It was continuously open until 1925, when it underwent refurbishment works before reopening definitively in 1997.
In just over 20 years, Madrid's Royal Theatre has become a place of reference to rival older establishments such as Milan's Scala de Milano or London's Royal Opera House.
Winning this award also gives Madrid's cultural offering (one of the most active in the whole country) a significant boost. The area surrounding the Royal Theatre was already visited a lot, but now there is even more reason to come here, and if possible, to buy tickets to see a show.
(Photo from https://www.teatroreal.es/es/visita-teatro-real )
Categories: Madrid Cultura
« (Español) El Atleti, campeón de liga
(Español) El Pasaporte COVID, una realidad cada vez más cercana »