El Penta is now a restaurant
Adapt or die. This has become the catchphrase of 2020, a year in which many businesses see the days go by while the virus does not seem to be going anywhere.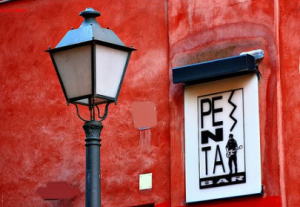 Seeing shuttered bars and shops is a daunting sight, especially when they belong to places that are part of the city's heritage, traditional places that, if walls could talk, would have countless stories to tell.
One of these places is El Penta, in the heart of Malasaña, one of the most popular bars during the times of The Madrid Scene (the scene was known even on an international level).
El Penta, the bar from the song Chica de ayer, opened its doors back in 1976 and soon conquered the hearts of artists and young people out to enjoy music and have a good time.
Artists like Almodóvar, Alaska or Los Secretos could often be spotted there, but if one person is especially remembered and appreciated for that mutual appreciation, that is Antonio Vega.
El Penta closed every night playing Chica de ayer until March 2020, the spring in which, to survive the pandemic and with the same spirit for which it has always been known, the bar accepted the Community of Madrid's proposal of transforming into a restaurant.
El Penta has not forgotten its roots, and proof of it is the quote from Antonio Vega's Lucha de gigantes that can be read at the end of the menu: Dime que es mentira todo, un sueño tonto y no más ("Tell me everything's a lie, a silly dream and nothing more".)
Whether it is a dream or reality, El Penta has not given up and will continue to be a part of Madrid's history with its dishes, flavours and history.
Categories: Madrid Ocio
« Come back to Prado and visit Hieronymus Bosch
(Español) ¿Quién mató a Sherlock Holmes? »