The largest cactus garden in Europe can be found in San Sebastián de los Reyes
Do you know what xerophytic plants are? They are plants that grow with very little water, which is very interesting to know in these times of drought. When we think of xerophytic plants, we automatically think of cacti and the desert, for example in Arizona, but why not in San Sebastián de los Reyes?
Yes, San Sebastián de los Reyes, a few kilometres from Madrid, has the largest cactus garden in Europe. It is called Desert City and is located at kilometre 25 of the A-1 motorway.
Entering the garden is like being transported to another world. In the 5000 square metres of space, you can walk around and admire the beauty of more than 600 different species of plants and see that not all cacti are prickly and not all xerophytic plants are cacti.
Guided tours for adults (lasting a maximum of 2 hours) are given by the park's founder herself, who explains the origins and history of the park, the origin of the plants, their environmental benefits and how they are cared for.
The team behind Desert City also talks about the concept of xeriscaping, which is the use of these plants in the design of sustainable gardens, which makes a lot of sense in these times of advancing climate change and long periods of drought!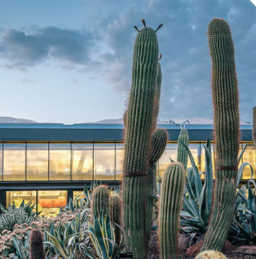 Back in the park, there is a fairly large nursery where visitors can get their hands on one of these plants and learn first-hand how to care for them to keep them in good condition.
There is also a children's playground where children can have fun and take a break from walking through the Madrid desert.
Desert City is open daily from 10 am to 5 pm. Guided tours are free on Saturdays, Sundays and public holidays at 11 am.
(Photo taken from the official Desert City website)
Categories: Madrid Ocio
« (Español) Hasta el 20 de agosto se puede visitar Madrid: crónica creativa de los 80
Five festivals near or in Madrid that you can't miss this summer »