Venezuelan food: three establishments to try
In Spain, we like to eat. There is no doubt of it. Eating establishes a sort of ritual based on the food. Apart from the enjoyment of good food, the most important conversations of the day take place at table. Family relationships and friendships are built up and established at the table.
For some time now, perhaps due to the influence of television or easy access to various types of ingredients, we all seem to consider ourselves potential mini-chefs, sometimes with exquisite results and always with a desire to experience new flavours.
Venezuelan cooking is rapidly gaining in prominence and is in great demand. Just as Mexican or Peruvian food became popular only a few years ago, Venezuelan food is gaining an increasingly large following.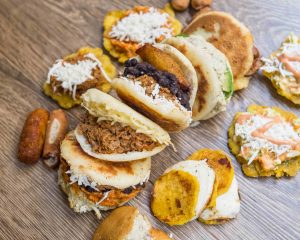 There is no doubt that the success of the Goiko Grill chain has contributed greatly to the above described result. Although basically a hamburger chain, the Goiko Grill chain owes its success to a Venezuelan of Basque origins who hinted at his origins by incorporating tequeños – a sort of cheese stick – into his menu.
For those who have not yet tasted Venezuelan food, the following are a list of Madrid restaurants where it may be enjoyed:
La Arepa Olé. This chain has a number of locations in central Madrid, such as in the Plaza Mayor or Chueca. It has been an open franchise since 2012, specialising in arepas, which are little corn pancakes stuffed with all kinds of ingredients, chiefly, and most characteristically, Guyanese cheese, plantain or avocado.
La Cuchara. This restaurant is located in the Salamanca district, on Conde de Peñalver. With a varied menu, diners can make a beeline for the variety of Venezuela specialities, ranging from excellent tequeños or soups, stuffed cachapas or the very typical chucho What is more, it also features Venezuelan refreshments such as malta or frescolita. It also offers a menu of the day.
This is located in the Prosperidad district, a little far from the centre, but easily accessible by metro. The menu charms all diners with its plantain leaf starters or fried yukas. For a main dish, diners can choose between arepas, cachapas or hamburgers. For dessert, why not try the tequeños with Nutella? You've got nothing to lose.
(Photo courtesy of Ubereats)
Categories: Madrid Ocio
« X-Madrid, the anti-shopping centre
(Español) Madrid Design Festival celebra su cuarta edición »